Best seats in the White House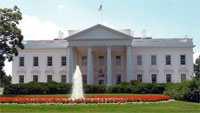 At least four prominent gays were on the guest list for the Obama White House's first State Dinner, with India, November 24. Hollywood producer David Geffen attended with his partner Jeremy Lingvall; Export-Import Bank Chairman Fred Hochberg attended with his partner Tom Healy; and former National Gay and Lesbian Task Force leader Urvashi Vaid and her partner comedian Kate Clinton.
In her blog at kateclinton.com, Clinton says she and Vaid, who was born in India, spoke about "peace and full equality whenever we could."
"It wasn't like, 'Pass the papardam, I'm a pro-choice, pro-peace lesbian, here's the chutney.' But close."
The Washington Post gossip column, "The Reliable Source," made note that Geffen and Lingvall were two of the nine people seated at President Obama's table for the event.