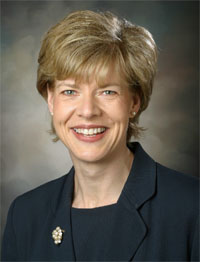 When President Obama issued a memorandum June 2 extending certain benefits to the same-sex partners of federal employees, he noted that there are still certain benefits he cannot extend under current law. But the legislation that the president and many LGBT organizations are touting as a solution faces one big hurdle that nobody's talking about—how to pay for it.
The Domestic Partnership Benefits and Obligations Act (DPBOA) seeks to extend health insurance and retirement benefits to the domestic partners of federal employees just as they already are extended to opposite-sex spouses. The bill passed the Senate Committee on Homeland Security and Governmental Affairs in December 2009 and the House Judiciary Committee in January 2010.
One major difference between the two versions is that the House version, sponsored by Rep. Tammy Baldwin (D-Wisc.), would extend benefits to federal retirees, as well as to current employees. The Senate version, sponsored by Sen. Joe Lieberman (I-Conn.), would not.
The difference gives the two versions very different price tags. The Senate version of the bill contains $113 million in so-called "on-budget" direct spending; the House version has $354 million.
The Advocate and Washington Blade reported in late May that Rep. Baldwin said she had received information from the Office of Personnel Management (OPM) identifying how the costs of the bill will be covered—the so-called "pay-for" data.
But Jerilyn Goodman, a spokeswoman for Baldwin's office, told Keen News Service June 7, "We are working closely with [the Senate] and OPM to put together a pay-for that covers current retirees/annuitants." A spokesperson for OPM also said they are still working on the pay-for information. And an aide for the Democratic leadership confirmed June 8 that, "The pay-for issue is not resolved."
That may delay the bill's ability to move forward, despite the recently restated support of the president.
And in the wake of the President's June 2 memo on partner benefits, House Speaker Nancy Pelosi issued a press release that indicated DPBOA might not be a priority.
While expressing support for DPBOA, she also noted, "Right now, we are working to finalize the defense authorization bill, which will repeal the discriminatory 'don't ask, don't tell policy.'" The House passed the Defense measure May 27 but must wait for the Senate to approve its version and then go into conference committee to agree on one final version.
Even if DPBOA passes, however, the benefits to same-sex partners will not be treated the same as those offered to opposite-sex spouses. Health insurance benefits that an employee receives for a same-sex partner are considered taxable income by the federal government, whereas for an opposite-sex spouse, they are not.
A study by the Center for American Progress and UCLA's Williams Institute in 2007 found that employees with partners pay an average of $1,069 per year more in taxes than married employees with the same coverage. Collectively, they pay $178 million per year in additional taxes, and U.S. employers collectively pay $57 million per year in additional payroll taxes.
A bill to equalize tax treatment of health insurance benefits, the Tax Equity for Health Plan Beneficiaries Act (TEHPBA), is in the House Ways and Means Committee, sponsored by Rep. Jim McDermott (D-Wash.) and in the Senate Finance Committee, sponsored by Sen. Charles Schumer (D-N.Y.) The bill would apply to all employees, not just federal ones.
Goodman said that Rep. Baldwin's office worked closely with McDermott's office to get TEHPBA included in the health reform bill that passed the House this year, but the language was not in the Senate bill that the president eventually chose to pursue. The legislators are continuing to work for passage of the measures as standalone bills, but, though related, DPBOA and TEHPBA cannot be combined because they each go through different committees, said Goodman.
McDermott's communications director, Ed Shelleby, said, "We're very hopeful that [TEHPBA] will get passed this year" as a stand-alone but that "we are also investigating if there are other appropriate bills to which the provisions could be attached." They are also re-evaluating the cost of the bill, he said, explaining that some provisions in the new health care reform law may lower original estimates.
Health benefits aside, even the limited benefits extended under current law to partners of federal employees by the president's June 2 memo will not all take effect right away.
The regulations governing several of the benefits must still go through a months-long process before they will be put into their final form and the benefits can take effect. OPM must publish proposed regulations in the Federal Register regarding the addition of a same-sex partner to the list of individuals presumed to have an insurable interest in a federal retiree. It must do the same for clarifying that employees' same-sex partners qualify as "family members" for purposes of noncompetitive appointments. The General Services Administration must publish proposed regulations regarding relocation and travel expenses.
The proposed regulations will be subject a period of public comment—typically 60 days—before final versions will be drawn up (which could again take months) and can become active.