Kagan — Gays are constituency, not priority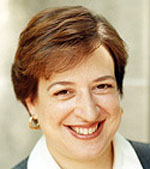 It's been clear since Elena Kagan was nominated to the U.S. Supreme Court that her confirmation hearing would be unusually focused on things gay.
First, there were the complaints that she barred military recruiters from Harvard Law School while she was dean. Then, came rumors that she herself is gay. And finally, there has been a generalized fear expressed by right-wing groups that she's liberal enough to reverse the Defense of Marriage Act.
But there's surprisingly little support for any of these assumptions in the thousands of emails, memoranda, and other documents submitted to the Senate Judiciary Committee from the archives of the Clinton White House. Kagan, who served as associate White House counsel from 1995-96 and as an official with the Domestic Policy Council from 1997-99, showed little stomach for tackling gay-related issues.
Strangely, there are no emails or documents addressing the Defense of Marriage Act (DOMA), though the legislation was introduced, passed, and signed by President Clinton in 1996. That was the year Kagan was Associate Counsel and, thus, the point person to advise the president on the constitutionality of bills coming to his desk.
In response to questions during her confirmation hearing to become Solicitor General, Kagan said she "never studied" the Massachusetts Supreme Judicial Court's 2003 ruling that said gay couples have a state constitutional right to obtain marriage licenses the same as straight couples. The lack of interest seems particularly odd given that she was dean of Boston-based Harvard Law School at the time the decision became globally publicized and discussed—triggering attention from presidential candidates to Congress to the mayor of San Francisco. She told the Senate Judiciary Committee she couldn't remember making any remarks about the law even though she moderated a panel on the landmark Goodridge decision at Harvard Law School three months after it was issued and during the throes of conflict in the Massachusetts legislature considering ways to undo it.
"I suspect I participated in informal conversation about the decision when it came out," said Kagan, "but I cannot remember anything I said."
At least two people close to her support that claim.
Asked in a telephone press conference last month whether Kagan advised Clinton on the constitutionality of DOMA, her then colleague Michael Waldman said, "I don't know if she offered her view" on DOMA. Asked whether she would have prepared a memo to the president concerning the bill's constitutionality, he said "possibly." This reporter has found none thus far.
And Lauren Lucas, who graduated from Harvard Law in 2005 and participated in a White House teleconference with reporters about Kagan, recalled that there was "a lot of student discussion" about the Goodridge decision but Lucas "heard no comment from Kagan."
In fact, emails from Kagan generally managed to make no comment about gay issues—not even whether she would attend a White House meeting to discuss a gay issue. In response to a February 21, 1997, email she received asking that she attend a "Gays Issues" meeting that afternoon, Kagan's response complains that she's gotten notice of the meeting only that day; nothing about whether she would attend.
Two months later, openly gay White House staffer Richard Socarides gave her two days notice and asked her to attend a meeting to discuss hate crimes with a group of "gay and lesbian anti-violence (hate crimes) advocates from around the country." His email tells her the meeting is at the request of the advocates who wish "to discuss the recent rise in hate crimes directed at gay and lesbian Americans." Her response is curt and non-committal: "if I can."
In August of that year, Socarides emailed Kagan asking her "Where are we?" on the "sexual orientation non-discrimination executive order." Kagan forwarded his email to another policy official to ask, "did bruce really say for maria to do this? Why?"
Bruce Reed was Kagan's boss, director of the White House Domestic Policy Council. Maria Echaveste was deputy chief of staff. Another email six months later showed the Council was still talking about it.
These are not the machinations of a stealth gay activist. The emails, documents, and testimony at her confirmation hearing for Solicitor General paint a picture of an official who is aware of gays as a constituency but not as a priority.
On "Don't Ask, Don't Tell," her position seemed crafted to walk the most narrow of middle lines. Speaking to a group of senior cadets at West Point in 2007, Kagan said she was "grieved" that the military and law schools were in court, facing off over the policy to exclude gays.
"Law schools, including mine, believe that employment opportunities should extend to all their students, regardless of their race or sex or sexual orientation," said Kagan. "And I personally believe that the exclusion of gays and lesbians from the military is both unjust and unwise. I wish devoutly that these Americans too could join this noblest of all professions and serve their country in this most important of all ways."
Shortly after Kagan became dean of Harvard Law, in 2003, an Air Force Chief of Recruiting sent an email to superiors indicating that Harvard "folded and conformed to our interpretation" of the Solomon Amendment, "but did so WITH much grumbling."
While "Don't Ask, Don't Tell" preceded Kagan's time as White House counsel, the Solomon Amendment was passed in 1996, when she was associate councils. The amendment was passed in response to law schools uniting behind a policy of requiring employers who wanted to recruit among their students to abide by a policy of non-discrimination, including no discrimination based on sexual orientation. Kagan inherited the policy as dean at Harvard Law when she took the helm in 2003. That October, an Air Force recruiting chief emailed superiors that "Harvard complied [with the amendment] and treated the [Air Force] the same as other employers." The report indicated military recruiters were allowed on campus and were not required to sign a non-discrimination statement regarding sexual orientation.
At about that same time, a group of 24 law schools filed a lawsuit against the Solomon Amendment; Harvard was not one of them.
But two years later, in 2005 and after a federal appeals court declared the Solomon Amendment unconstitutional, email exchanges between the Air Force and an assistant dean, suggested the decision on whether to allow military recruiters on campus was up in the air at Harvard and a matter to be decided by "the faculty." One such email quotes the assistant dean as indicating that Kagan "had made her position (opposition) to military recruiting very clear" but that "the university president [Larry Summers] felt differently."
A letter from Harvard's vice president and general counsel informed the Air Force in June 2005—one month after the U.S. Supreme Court indicated it wanted to weigh in on the matter– that military recruiters would have access to recruitment services at the Law School. The Supreme Court reversed the appeals decision and upheld the Solomon Amendment in March 2006.
During her confirmation hearing to become Solicitor General, the Senate Judiciary Committee asked her about the Solomon Amendment. Specifically, some members of the committee wanted to know whether Kagan had encouraged or participated in any protests against the military and whether she abided by guidance from the Association of American Law Schools to take "ameliorative steps" against the amendment.
Kagan's response was a portrait of caution. She said her approach was to "create a respectful and welcoming environment for gay and lesbian students." She said Harvard Law never sponsored or organized protests, but that she "made remarks at one assembly organized for this purpose" by the gay student group and "may have attended but not spoken at one other event of this kind."
Kagan has been more emphatic when asked about "Don't Ask, Don't Tell."
"I can say that, in any case attacking the constitutionality of [the federal law involving Don't Ask, Don't Tell]," said Kagan, in response to written questions from Senator Arlen Specter during the February 2009 confirmation hearing, "I would apply the usual strong presumption of constitutionality and give full weight to the factors supporting this presumption, such as the prior appellate court decisions upholding the statute and the doctrine of judicial deference to legislation involving military matters."
Also during her confirmation hearing to become Solicitor General, Kagan was asked whether she would support the right of health care providers to decline to participate in abortions "because of their moral and religious beliefs." The question was referring to a rule issued by the Department of Health and Human Services during the second term of President George W. Bush. The rule sought to enable health care providers to abstain from a number of procedures—including insemination of a lesbian— by saying the procedure violated their religious or moral beliefs. Kagan said she didn't know anything about the so-called "Conscience Rule" but that, if it were a statute attacked on constitutional grounds, she would ask, "is there a reasonable defense to be offered in support of the statute?"
"If so, I would make that defense," wrote Kagan in her responses.
The Los Angeles Times and other media also found an email from May 1999 in which Kagan described herself as the "biggest fan" in the Clinton White House of the Religious Freedom Restoration Act (later reincarnated as the Religious Freedom Liberty Act). What they didn't report, however, is that, in an email one month earlier, Kagan acknowledged, "the gay community, supported by many civil rights groups, oppose RLPA as currently drafted."
"RLPA could provide a religious liberties defense to many state laws, including some civil rights laws, such as fair housing laws that prevent discrimination against gays and lesbians and unmarried persons," wrote Kagan in the April 29, 1999, email to Bruce Reed. "This result is not certain, but it is certainly possible, at least in some states."
In the later email, she warned then Vice President Al Gore's staff that they'd have a "gay/lesbian firestorm" on their hands if Gore endorsed the legislation.
It was another example of Kagan seeing the gay community as a constituency, not a priority. But on at least one occasion, a May 27, 1997, memo co-written by Kagan and Reed, the constituency got a nod. The memo expresses concerns about a proposed race commission and suggests, as an alternative, that President Clinton lead a series of "town halls" on race-related issues or that the White House host a conference on such issues. The Reed-Kagan proposal notes that those options could also "accommodate some attention to issues of intolerance" against other minorities, including gays and lesbians.
Richard Socarides, who was White House liaison to the gay community during the Clinton years, suggests that the portrait painted by this latter memo is a more accurate one than are the various emails.
"I worked with her and got to know her quite well during that period of 1996 to 99," said Socarides. "She was very supportive of what the president was trying to do around creating greater equality for gays and lesbians. She was very supportive of the mission that he had given me—to make sure, to the extent possible, that gays were included and a part of every relevant policy discussion that took place."
Socarides said he doesn't remember Kagan being at any of the White House meetings on DOMA, but that he did talk to her "early on" about his proposal to have the president issue an executive order on sexual orientation discrimination in the federal workplace.
"She was on board from the start," said Socarides.
Socarides said he simply couldn't explain why Kagan's email concerning the proposed executive order appears to question why the administration should issue it. The order, issued in May 1998, declared that a Civil Service law requirement that a federal employee's "conduct not related to job performance" (such as the employee's sexual orientation) could not be a basis for discrimination.
"Her reaction was like, 'Sounds right to me, let's do it,'" said Socarides. "She was never dragging her feet on this or any gay stuff."
Many of these issues are likely to come up when the Senate Judiciary Committee holds its confirmation hearings, starting Monday, June 28.