Second inaugural boosts LGBT equality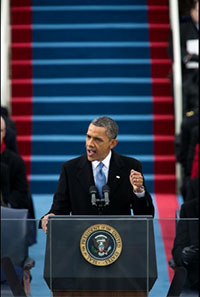 President Obama, in his second inaugural address, emphasized the nation's principle of equality for all and, in doing so, specifically included the struggles of LGBT Americans to achieve equality.
"We, the people, declare today that the most evident of truths – that all of us are created equal – is the star that guides us still; just as it guided our forebears through Seneca Falls, and Selma, and Stonewall; just as it guided all those men and women, sung and unsung, who left footprints along this great Mall, to hear a preacher say that we cannot walk alone; to hear a King proclaim that our individual freedom is inextricably bound to the freedom of every soul on Earth.
"It is now our generation's task to carry on what [our nation's] pioneers began. For our journey is not complete until our wives, our mothers, and daughters can earn a living equal to their efforts. Our journey is not complete until our gay brothers and sisters are treated like anyone else under the law – for if we are truly created equal, then surely the love we commit to one another must be equal as well," said Obama.
Our generation's task, he said, is to "make these words, these rights, these values – of Life, and Liberty, and the Pursuit of Happiness – real for every American."
LGBT groups issued statements praising President Obama for including the gay civil rights struggle in his remarks, and many political commentators with mainstream news organizations were quick to note that this was the first inaugural address to specifically name gays and that it seemed to represent a boost to progressive goals for the administration's second term.
"By lifting up the lives of LGBT families for the very first time in an inaugural address, President Obama sent a clear message to LGBT young people from the Gulf Coast to the Rocky Mountains that this country's leaders will fight for them until equality is the law of the land," said Human Rights Campaign President Chad Griffin.
Evan Wolfson, head of the national Freedom to Marry group, said President Obama, by including the gay civil rights movement alongside the movements for the civil rights of blacks and women, "rightly exalted the struggle for the freedom to marry as part of America's moral commitment to equality, liberty, and the pursuit of happiness."
In his first inaugural address, in 2009, President Obama emphasized unity and did not refer to LGBT citizens directly or indirectly. Some last-minute inclusion of gay people in various venues of the inaugural festivities went generally unpublicized and unseen. Instead, media attention remarked on the high-profile inclusion of a California evangelist Rick Warren to deliver the inaugural benediction. Just two months earlier, Warren supported Proposition 8 in California, banning marriage for same-sex couples.
This time, however, there was positive and visible inclusion of LGBT people throughout the inaugural ceremony.
Delivering the benediction on the inaugural podium Monday, the Rev. Luis Leon, the pastor of an Episcopal church near the White House that the Obama family attends, urged that "prejudice and rancor" not be allowed to rule our hearts but that, instead, all citizens hold each other in "mutual regard" no matter what their race or gender or immigrant status, and whether "gay or straight, rich or poor."
Press reports prior to the inaugural ceremony characterized Leon as a "gay-affirming" clergyman at Saint John's Church, which also celebrates marriage ceremonies for same-sex couples. Leon replaced Atlanta pastor Louie Giglio who was initially invited to deliver the benediction but who withdrew from the ceremony after criticism surfaced about remarks he made in a sermon in the 1990s. In that sermon, Giglio called homosexualiy "probably the greatest addiction" and said that marriage between same-sex partners is "absolutely undermining the whole order of our society."
An openly gay man, Richard Blanco of Bethel, Maine, presented a poem as part of the inaugural ceremony. Drawing from common images of Americans in all walks of life, Blanco's poem spoke of the nation's oneness.
"One sun rose on us today," he noted. "…one light waking up rooftops, under each one a story….my face, your face, millions of faces in morning's mirrors." He spoke of sights common to all, of the rows of colorful fruits and vegetables at markets, as "rainbows begging our praise." And he spoke of "carrying our lives without prejudice" and "giving thanks for a love that loves you back."
Myrlie Evers-Williams, who delivered the invocation at the inaugural ceremony, did not mention LGBT people specifically, but repeatedly referred to the importance of diversity in the nation's people and in the principle "everyone is included." In an interview with Urban Christian News a few days before the event, she was asked how she felt about the Giglio controversy: "I'm simply delighted that I was not so controversial that I would step down," said Evers-Williams, "or be asked to step down."
And an elder of the gay-oriented Metropolitan Community Church, Rev. Elder Nancy Wilson, was the first to greet the congregation of national leaders at the National Prayer Service Tuesday morning. Wilson, who serves on the White House Advisory Council on Faith-Based and Neighborhood Partnerships, is a moderator of the Universal Fellowship of MCCs, following in the steps of MCC founder Troy Perry. She has been active in the movement to achieve equality for same-sex couples in marriage, as well on issues involving HIV, the treatment of prisoners, and women's equality.
The sermon for the nationally broadcast prayer service was delivered by Rev. Adam Hamilton, a senior pastor of the United Methodist Church of the Resurrection in Leawood, Kansas. Hamilton co-authored a motion last year to urge the United Methodist denomination to amend its policy statement that homosexuality "incompatible with Christian teaching." The motion failed.
If there was any mar to the historic inauguration ceremony, it was likely from a different pastor from Kansas. According to a pool reporter for White House, a small number of people held up signs saying, "God hates fags" and "God hates Obama" along the motorcade route to the U.S. Capitol on Monday. The messages were typical of Kansas pastor Fred Phelps and his follower who have acquired considerable media attention by displaying hate-filled messages at gays during various high-profile events.
            During the inaugural parade Monday afternoon, the lavendar-clad Lesbian and Gay Band contingent appeared in the middle of the parade contingents, gaining national visibility on television broadcasts for a few seconds as it passed the presidential viewing booth. The band followed  a float about Martin Luther King Jr., and "Civil Rights Float" and in front of the "Native American Women Warriors" contingent from Colorado. This is the Band's second appearance ever in an inaugural parade and, because its members are comprised of 37 groups from around the world, its first rehearsal for this year's event took place Saturday. The Civil Rights Float is described by the Presidential Inaugural Committee as featuring "images representing historic struggles of many of the civil rights movements in our country," including the LGBT movement.
Monday night, the Human Rights Campaign's "LGBT Out for Equality Inaugural Ball" was held just a few blocks from the White House –at the Mayflower Hotel.