Marriage repeal efforts underway in NH, Iowa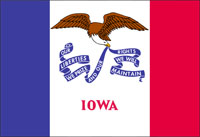 Efforts are underway in both New Hampshire and Iowa to overturn marriage equality laws there.
On Tuesday, January 5, opponents of gay marriage were scheduled to deliver petitions to more than 200 town halls across New Hampshire to ask that their annual town meetings—which meet beginning March 9—vote on a resolution to prod the legislature into allowing a statewide referendum on the new marriage equality law.
And in Iowa, opponents of marriage licensing for same-sex couples are trying once again to push for a bill in the legislature to amend the state constitution to restrict marriage licensing to straight couples only.
A state representative is leading the charge in New Hampshire, which began implementing its marriage equality law on January 1. Rep. David Bates (R-Windham) has organized a drive to ask members of the state's 221 towns to approve the resolution calling for a referendum.
New Hampshire law does not currently provide for holding referenda on state ballots, and the town resolutions, if approved, are non-binding on the legislature. But if three-fifths of the legislature's members vote to do so, a measure could be put to voters statewide.
According to the Union Leader newspaper, in Manchester, N.H., only 25 citizens need to sign a petition for force a town meeting to vote on a resolution.
Two bills were also submitted late last year for the 2010 legislature in New Hampshire –one seeking to repeal the bill through a legislative act; the other seeking to amend the state constitution to define marriage as being between only one man and one woman.
New Hampshire Governor John Lynch signed the legislature's marriage equality law in June 2009. That made the Granite State the fifth state in the nation to treat gay couples equally under their marriage laws –following Massachusetts, Connecticut, Vermont, and Iowa.
In Iowa, the anti-gay marriage effort is being led by Bryan English of the Iowa Family Policy Council and is supplemented, once again, by a bill seeking a constitutional amendment to ban the licensing of same-sex marriages.
English is organizing an anti-gay marriage rally at the state capital in Des Moines on Tuesday, January 12. That's when Democratic Governor Chet Culver will deliver his "Condition of the State" address.
Two days earlier, on January 10, One Iowa, a pro-gay statewide group, will hold its own rally at the state capital to urge opposition to the proposed constitutional amendment.
In the Iowa legislature, HJR 6 proposes an amendment to the Iowa constitution stipulating that the "only legal union that is valid or recognized in the state" is a marriage between "one man and one woman."
Supporters of a similar bill last year tried to suspend House rules to demand an immediate vote on the measure, but the Speaker of the House ruled their effort out of order.
According to the Cedar Rapids Gazette newspaper, neither House Speaker Pat Murphy nor Senate Majority Leader Mike Gronstal have plans to bring HJR 6 to the floor this year.