Mid-day report: Day 8 Prop 8 trial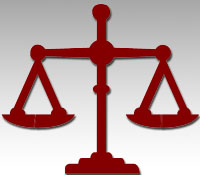 Defenders of Proposition 8 are continuing their process of drawing out the trial with prolonged cross-examinations of the plaintiffs' expert witnesses. One attorney acknowledged in court late yesterday that the legal team's case is "primarily" based on cross-examination and that defense plans to bring only two witnesses itself when it starts to present its case tomorrow or Monday.
The burden in a case such as this is, of course, on the plaintiffs who are challenging the existing law. But U.S. District Court Judge Vaughn Walker urged defense attorney David Thompson several times this morning to do what he can to finish up his cross-examination—begun yesterday—of political science expert Gary Segura, and he finally did, just before the lunch break.
While Thompson is clearly an experienced and able lawyer, his tactics are also obviously well known and observed by the plaintiffs expert witnesses. Thompson, for instance, will get a witness to read only one sentence of a paragraph in a document—a paragraph that says something that appears to suggest that the gay community is a powerful political force. But in answering the question, the witnesses, like Segura, find a way of incorporating the context surrounding that sentence—context that often contradicts Thompson's point. When Thompson tries to force witnesses into a yes or no response or effectively inhibits their ability to respond with context, plaintiffs' attorney Ted Boutrous, on re-direct, enables them to do so.
This may not be as dramatic as courtroom television dramas, but it is a riveting legal battle and one with important significance depending in large part on how much U.S. District Court Judge Vaughn Walker does or does not know about the context of civil rights political battles already.
During an important exchange this morning, Walker revealed that he knows quite a bit.
The discussion was around boycotts, with Thompson attempting to illustrate that part of the reason voters supported Proposition 8 might have been their dismay with the gay community's effort to organize some boycotts of businesses that were helping to fund the initiative's campaign. He pointed to a post-election article in the New York Times which said harassment and boycotts by gays against supporters of Proposition 8 would likely dissipate the ability of the LGBT community to appeal to the notion of fairness," in fighting for its cause. Segura begged to differ, noting that the black civil rights movement had made considerable gains through use of boycotts, as had other groups through the years.
Walker interrupted to ask Segura whether he had considered what the effect of the riots, vandalism, and boycotts that were aspects of the black civil rights movement in the 1960s was on the political support blacks garnered for their cause and on the political climate.
"As a general rule of thumb," said Segura, any form of organized violence or disorderly behavior has a negative impact on public opinion." But a non-violent tactic, such as a boycott, he said, "plays much better." He also noted that the riots in Los Angeles that followed the verdict in the infamous Rodney King police brutality case "set into motion" a "Rebuild Los Angeles" program that sought to ameliorate the conditions of poverty that contributed to the riots there.
"I'm not defending the actions," said Segura, "but there are moments when acts [such as riots] are interpreted as a cry for help, an expression of frustration, or even the ultimate expression of powerlessness."
The focus of this morning's testimony was on the relative political power of the gay and lesbian community.
Judge Walker seemed particularly interested in documents and testimony relating to the support various religious organizations and people and their support or opposition to same-sex marriage.
Defense attorney Thompson asked Segura to convey information from a survey that showed, for instance, that "100 percent of people who identified as Quakers" supported the right of gay couples to marry. That would seem to suggest that the battle over Proposition 8 was not a David v. Goliath battle between powerless gays and overwhelmingly powerful and mammoth church institutions.
But, once again, Segura, a clearly an experienced and unflappable expert witness, noted that the survey Thompson was having him read included only three people who identified as Quaker.
Thompson also introduced evidence—news reports mostly—that seemed to document several incidents in which people who apparently opposed Proposition 8 assaulted supporters and vandalized their property. None of the news reports, including a Fox News Bill O'Reilly show interview, included quotes from the alleged perpetrators, and plaintiffs' attorney Boutrous objected to each of the reports as hearsay. But Judge Walker, who acknowledged that he was approaching the introduce of such evidence with a "welcoming" attitude, did allow them into evidence. He also allowed plaintiffs to introduce into evidence the controversial television ad promoted by the National Organization for Marriage—called "The Gathering Storm."
Defense attorney Thompson objected, saying the National Organization for Marriage was not part of the Protect Marriage group. He will, no doubt, raise such objections this afternoon, as plaintiffs call William Tam, an "adverse witness" because he was an official and public proponent of Proposition 8. Tam has made some unusually caustic and hostile remarks concerning gay people—remarks that defenders of Proposition 8 have attempted to distance themselves from.
Court reconvenes at 1:10 Pacific time.