NH House panel nearing vote on repeal measures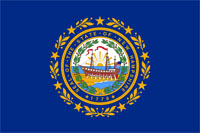 A New Hampshire House committee is expected to vote soon on two bills seeking to restrict marriage licenses to straight couples only.
The House Judiciary Committee held a hearing on the measures January 20.
One bill seeks to repeal the state's newly enacted marriage equality law; the other seeks to amend the state constitution to define marriage as "one man and one woman."
State Rep. Jim Splaine, an openly gay supporter of marriage equality, said about 100 people attended the hearing, divided fairly evenly between those supporting and opposing repeal. Among those opposing the repeal were several newly married same-sex couples, said Splaine.
House Bill 1590 was introduced by Republican Rep. Alfred Baldasaro and has only four co-sponsors in a chamber with 400 members—56 percent of them Democrats. In proposing to repeal marriage equality, the bill does not propose restoring the state's previous law allowing for civil unions.
Constitutional Amendment Concurrent Resolution No. 28 also seeks to restrict the definition of marriage to "one man and one woman." It was introduced by Republican Rep. Dudley Dumaine with two other co-sponsors.
The House Judiciary Committee must discharge the bills before February 18 and Splaine said he expects a vote within a week or two. Splaine said he expects the committee to recommend that the full House reject the measures.
"I think we will be successful there, too," said Splaine.
Splaine said he and marriage equality supporters are working simultaneously to lobby town meeting members in about 130 towns where opponents of same-sex marriage have put the issue on local town meeting agendas. The proposals seek to have the towns tell the state legislature to put a measure on the ballot statewide to allow New Hampshire citizens to vote on the marriage equality law.