Memo to Maryland: Honor out-of-state marriage licenses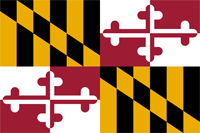 Just days before Washington, D.C.'s new marriage equality law is set to go into effect, the attorney general of neighboring Maryland issued a long-awaited opinion on whether same-sex marriages validated in other jurisdictions "may be recognized" under Maryland state law.
"The answer to that question," wrote Attorney General Douglas Gansler, in an opinion dated February 23 and released February 24, "is clearly 'yes'."
But what's not entirely clear yet is what "may" means. Equality Maryland Executive Director Morgan Meneses-Sheets said Gansler made clear, "in no uncertain terms," that state agencies are "compelled to act in compliance with the law by providing equal protections to same-sex couples with valid, out of state licenses."
"That's a big change," said Meneses-Sheets.
The attorney general's office did not return repeated calls for clarification, but the Washington Post reported Thursday that Gansler, "declared Wednesday that Maryland will recognize same-sex marriages performed elsewhere and that its agencies should immediately begin affording gay married couples the same rights as heterosexual ones."
Much of the reaction to Gansler's memo seemed to presume there was an immediacy to his issuance, and it reflected both praise and promises of undoing. Gay civil rights groups were understandably happy and right-wing entities, such as the Catholic Church, were predictably dismayed with the opinion. One delegate in the state House suggested the attorney general should be impeached.
Governor Martin O'Malley, choosing his words carefully, said the state would be "guided" by the "thorough analysis and legal advice."
"I expect all State agencies to work with the Attorney General's office to ensure compliance with the law," said the Democratic governor.
But in his 55-page memo, Gansler took considerable pains to make clear that his memorandum was a directive.
The memo "is not itself the law of Maryland in the same sense as a statute… or court decision," said Gansler. "Rather it is an interpretation of the statutory or common law that can guide a client agency and may be persuasive to a court reviewing agency action based on the opinion."
"Thus, what we say in this opinion is a prediction, not a prescription, as to the how the [state] Court would approach this issue under current law," wrote Gansler.
Gansler's memorandum was addressed to openly gay State Senator Richard Madaleno, who requested an opinion last May as to whether Maryland could recognize same-sex marriages licensed elsewhere. Madaleno also asked whether the governor could issue an executive order to direct state agencies to recognize same-sex marriages licensed elsewhere. In 2008, New York Governor David Paterson directed his general counsel to send out such a directive.
Gansler responded that Paterson's executive order had been based on a state court order and that no similar court order had been rendered in Maryland, so Governor O'Malley, he said, was not at liberty to issue a similar directive.
In his opinion, Gansler predicts the state court would "likely respect the law of other states and recognize a same-sex marriage contracted validly in another jurisdiction."
"The Court of Appeals would start from the general principle that a marriage that is valid in the place of celebration remains valid in Maryland," wrote Gansler. "There is an exception to that rule if the particular marriage is contrary to a strong State public policy."
But the Gansler memo indicates that Maryland has only rarely used the public policy exception in relation to marriage. He noted, for instance, that the state has accepted as legitimate a marriage between an uncle and a niece from another state even though Maryland law prohibits such marriages.
Importantly, he suggests that Maryland public policy has, in fact, been moving toward greater acceptance of same-sex relationships.
"While Maryland law does not allow for same-sex marriages," he noted, "it provides significant recognition and support of same-sex relationships."
And while the Maryland General Assembly passed a law in 1973 specifying that "[o]nly a marriage between a man and a woman is valid in this State," he points out, several attempts to amend state law and the state constitution to explicitly bar recognition of same-sex marriages have failed. Now, said the attorney general, "the statute no longer expresses a public policy of the State that so condemns same-sex relationships as to create an exception to principle of comity that usually governs recognition of out-of-state marriages."
Comity is a term used to describe the practice of one state recognizing a legal declaration issued in another state.
At the same time, he notes that the state legislature, in passing a bill in 2001 to prohibit sexual orientation discrimination, added an explicit clause to note that the new law would not validate same-sex marriage in the state. And, in 2007, the state's highest court, the Maryland Court of Appeals, ruled that neither the state's Equal Rights Amendment nor the state's constitution required the state to license marriages of same-sex couples the same as with heterosexual couples.
"While this is welcome news for those couples who were legally married in one of the growing number of states with equality in marriage," said Sen. Madaleno, "nothing in the Attorney General's opinion changes the fact that same-sex couples cannot obtain marriage licenses in Maryland."
That may be true, but next Wednesday, March 3, couples will be able to obtain marriage licenses in neighboring Washington, D.C.
Currently, only five other states issue marriage licenses to same-sex couples—Massachusetts, Connecticut, Iowa, Vermont, and New Hampshire. Only two other states—New York and Rhode Island—recognize marriage licenses validly obtained elsewhere, according to the national Freedom to Marriage group.
Evan Wolfson, head of the national Freedom to Marry group, applauded the Gansler memo, saying, "Maryland will continue to follow the tradition and common-sense practice of honoring out-of-state marriages, without a 'gay exception'."
"As same-sex couples marry next door in the District of Columbia and across America," said Wolfson, "Maryland will treat those families with respect, giving Marylanders a chance to see neighbor couples legally married, with families helped and no one hurt."