5th Circuit upholds Louisiana's denial to gay dads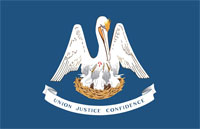 In a case that calls into question the responsibility of states to recognize adoptions granted in other states, a federal circuit court on Tuesday, April 12, said the state of Louisiana does not have to put the names of two gay fathers on the birth certificate of a Louisiana-born boy whom they adopted in New York.
A ten-member majority of the full 16-member 5th U.S. Circuit Court of Appeals ruled in Adar v. Smith that Louisiana State Registrar Darlene Smith did not violate the Full Faith and Credit Clause and Equal Protection Clauses of the U.S. Constitution by refusing to issue a new birth certificate to a child born in Louisiana in 2006 but adopted in New York by a gay couple, Oren Adar and Mickey Smith.
The men had requested a new birth certificate from Louisiana listing them both as the boy's parents. It is a common procedure for children adopted outside their birth states. But Louisiana officials said to do so would violate Louisiana's public policy of not allowing joint adoptions by unmarried couples.
The fathers, assisted by Lambda Legal Defense and Education Fund, filed a lawsuit in a federal district court. Without the revised birth certificate, said Adar and Smith, it had been difficult for Smith to add their son to his health insurance. The couple also had difficulties with airline personnel, who suspected they might be kidnapping the child.
The federal district court ordered the registrar to issue a new birth certificate identifying both men as the boy's parents. The state appealed to the 5th Circuit Court of Appeals, which covers Texas, Louisiana, and Mississippi, and a three-judge panel affirmed the district court ruling. The state then appealed to the full 5th Circuit Court.
The full court ruled that the Full Faith and Credit clause of the U.S. Constitution cannot be used to make states act contrary to their own laws in enforcing judgments from other states. Obtaining a birth certificate falls into the realm of enforcement, it said, "and therefore outside the full faith and credit obligation of recognition."
It also noted that the Louisiana Registrar agreed the state "is bound by the New York adoption decree, such that the parental relationship of Adar and Smith with Infant J cannot be relitigated in Louisiana," and thus, "There is no legal basis on which to conclude that failure to issue a revised birth certificate denies 'recognition' to the New York adoption decree."
On the issue of Equal Protection, the court noted that the gay couple claimed Louisiana treats adoptive children of unmarried parents differently from adoptive children with married parents, "and this differential treatment does not serve any legitimate governmental interest."
The court disagreed, saying the state has a "rational preference for stable adoptive families," and its birth certificate requirements "flow from its domestic adoption law."
Lambda Legal issued a statement Tuesday evening, saying it is "astonished" at the ruling, saying "this court seems willing to turn away from the full faith and credit clause of the Constitution just to deny an accurate birth certificate for this child adopted by his two fathers."
The court also refused to evaluate the case based on "heightened scrutiny," which requires a higher justification to uphold a law, using instead the lower "rational basis" standard.
"Since adoption is not a fundamental right," said the majority, "the Louisiana law will be upheld if it is rationally related to a legitimate state interest."
It explained, "Louisiana may rationally conclude that having parenthood focused on a married couple or single individual–not on the freely severable relationship of unmarried partners–furthers the interests of adopted children."
In support of this assertion, the court said Louisiana has "a legitimate interest in encouraging a stable and nurturing environment for the education and socialization of its adopted children"—a quotation from Lofton v. Secretary of the Department of Children and Family Services. That was a 2005 case in which the federal 11th U.S. Circuit Court of Appeals said a Florida ban on adoption by gay men and lesbians violated no federal constitutional rights. The ban was later challenged again and overturned in state court in 2010.
The majority also cited a 2002 article "Marriage from a Child's Perspective," by University of Michigan sociologist Kristin Anderson Moore, which "noted that marriage, when compared to cohabitation, 'is associated with better outcomes for children,' since marriage is more likely to provide the stability necessary for the healthy development of children."
"This fact alone," said the court, "provides a rational basis for Louisiana's adoption regime and corresponding vital statistics registry."
Moore's paper discussed only opposite-sex couples, not same-sex ones.
Chief Judge Edith Jones, who was nominated to the 5th Circuit by President Ronald Reagan and appeared on President George W. Bush's "short list" of potential Supreme Court nominees, wrote the opinion.
Of the nine other concurring judges, three others were Reagan nominees, one was a nominee of President George H. W. Bush, four were nominees of President George W. Bush, and one was a nominee of President Jimmy Carter.
One judge, a nominee of George W. Bush, concurred in part and dissented in part.
Of the five dissenting judges, Jacques Wiener, Jr., who wrote the dissent, was a nominee of George H.W. Bush. Three were nominees of President Bill Clinton, and one of George W. Bush.
In the dissent, Wiener said the ruling sets up a "circuit split" between the 5th and 10th Circuit Courts. In 2007, the 10th Circuit Court ruled, in Finstuen v. Crutcher, that an Oklahoma law refusing to recognize adoptions by same-sex couples was unconstitutional.
A circuit split may mean the U.S. Supreme Court will be more likely to hear the case, should it be appealed. A spokesperson for Lambda Legal said they would need to do more analysis of the opinion before making the decision on whether to appeal.