Supreme worries: drawing the line on religious bias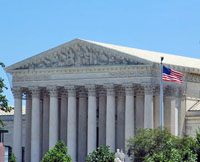 The ACLU called it "one of the most important religious liberty cases in years" and said the U.S. Supreme Court's decision in the matter would determine whether religious organizations have "the right to discriminate based on non-religious grounds."
The case is Hosanna-Tabor Evangelical Lutheran Church and School v. Equal Employment Opportunity Commission, and it was argued before the U.S. Supreme Court on October 5. Hosanna-Tabor school, in Redford, Michigan, describes itself as a "Christian day school" with grades Kindergarten through 8. Their appeal is the latest clash between the free exercise and Establishment clauses of the First Amendment to the U.S. Constitution and federal statutes seeking to bar discrimination.
Heretofore, that clash has had mixed results for LGBT people. The most notorious of losses came in 2000 with Boy Scouts of America v. Dale. In that decision, a majority ruled the Boy Scouts had a First Amendment right to expect its belief that homosexuality is not "morally straight" trumps the state of New Jersey's human rights law prohibiting sexual orientation discrimination. But just last year, the high court, in Christian Legal Society v. Martinez, ruled that a public school's non-discrimination policy, which prohibited discrimination based on sexual orientation, was "a reasonable, viewpoint-neutral condition" for use of the school's facilities by student groups, including religious-oriented student groups that discriminated against gay students.
In Hosanna-Tabor, the court is deliberating over "where to draw the line" between religious exercise and federal employment laws prohibiting discrimination.
"The courts of appeals agree that there is a ministerial exception to employment-law litigation," argued attorneys for Hosanna-Tabor, in their petition to the high court. "They agree that it extends beyond pastors, priests, and rabbis, but not as far as janitors or secretaries. The question is where to draw the line."
The Equal Employment Opportunity Commission (EEOC), which pressed a discrimination case against Hosanna-Tabor on behalf of a female employee of the school, agrees that courts "have held that clergy members generally cannot bring claims under the federal employment discrimination laws, including Title VII, the Age Discrimination in Employment Act, the Equal Pay Act, and the Americans with Disabilities Act."
"This 'ministerial exception,'" says EEOC, "comes not from the text of the statutes, but from the First Amendment principle that governmental regulation of church administration, including the appointment of clergy, impedes the free exercise of religion and constitutes impermissible government entanglement with church authority." But the exception, says EEOC, "applies only to employees who perform essentially religious functions, namely those whose primary duties consist of engaging in church governance, supervising a religious order, or conducting religious ritual, worship, or instruction."
And in this discrimination case, says EEOC, the female employee, Cheryl Perich, was a teacher of math, language arts, social studies, science, gym, art, and music "using secular textbooks" and "seldom introduc[ing] religion during secular discussions."
Conservative attorney Ed Whelan has called the Obama administration's "hostility to the ministerial exemption in the Hosanna-Tabor case is part and parcel of a broader ideological agenda that would have gay causes trump religious liberty."
Interestingly, Lambda Legal Defense, the preeminent national LGBT legal group in the country, did not see the case as important to its going concerns and did not file a brief.
"We did not file a brief in this case, as it largely presents a matter of statutory interpretation regarding statutes that do not protect against sexual orientation or gender identity discrimination," said Jon Davidson, Lambda's national legal director.  Davidson acknowledged that a expanded reading of "ministerial exception" could help religious institutions discriminated based on sexual orientation and gender identity, should those categories of discrimination ever be prohibited by federal law. But the Employment Non-Discrimination Act (ENDA), a bill proposing to outlaw employment discrimination based on sexual orientation and gender identity, "likely will have its own language" with religious exemptions, said Davidson.
The ACLU, which did file a brief, agreed with the EEOC, saying the "ministerial exception should not apply to discriminatory decisions that have nothing to do with religious doctrine." It complained that courts "have extended the [ministerial] exception far beyond what is required by the Religion Clauses."
"They have converted the ministerial exception into a shield for all forms of discrimination and retaliation, regardless of motivation," said the ACLU brief. "And they have prevented judicial redress of even the most flagrant racial or sexual harassment, even when motivated by naked animus unrelated to any religious belief."